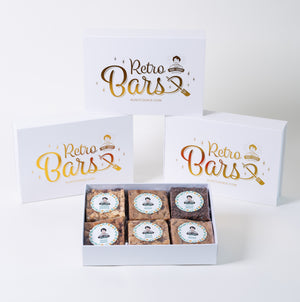 From Gourmet Brownies to Blondies to Raspberry Shortbread Bars, Aunt Cookie's Retro Bars are the newest gourmet treats to share the love and spread the joy!
The Aunt Cookie Retro Bars are the newest sweet treat to add to your Gift Box Experience! And guess what? You can choose from five different varieties and pack your favorite flavors into the branded box, which is packed with six of your personalized choices.
The vintage desserts are crafted with pure, quality ingredients, and baked fresh daily just like Aunt Cookie's gourmet cookies. And they are packaged with the same care and attention to detail, so you know you are receiving and sending only the best in sweet treat delivery.
And speaking of packaging, our Retro Bars come nestled in a convenient drawer box that accommodates six bars of your choice. Yes, that's right, you get to choose the six bars that tickle your taste buds! Aunt Cookie takes pride in offering you a personalized treat experience.
While Aunt Cookie has a unique story to tell for each Retro Bar, they all share ways to be enjoyed!
Looking for a quick dessert delivery for entertaining guests? The variety box is perfect to create a stunning assortment platter! They are also the ideal lunchbox or briefcase treat to indulge in alone or share with others.
And of course the Retro Bars look beautiful in an Aunt Cookie Gift Box Experience, making it a memorable gift for any occasion. Any day is a good day to treat yourself or someone you cherish to a special delivery from Aunt Cookie. Taste the love!